The town & surrounding area
Oberammergau, world famous as the venue for the Passion Play and a leading tourist community, is situated at 837 m high, surrounded by mountains with the Laber (1,686 m) as the highest point and the Kofel (1,341 m) as the landmark.

Below the Kofel on the Grottenweg trail, there's the Mariengrotte and Malenstein, a reputed pagan sacrificial rock. Opposite in a gap in the rocks of the Laber, 10 minutes above the road there's the Bärenloch with resurrection figure in the cave.

The Ammer was called "Ambre" by the Romans, derived from the Celtic "Ambara" and "Ambrigow" at the time of the Welf dynasty around 880. Whether the Welf Earl Ethiko settled in the monastic hermitage with his 12 followers here or up the Kappel in Unterammergau is unclear.

The farms date back to these settlers. The Thirty Years' War (plague, 1635 and 1647 Swedish invasion), War of the Spanish Succession (1703/1704), French Revolution (1800), Napoleonic Wars (1805 and 1809) and village fires as well as frequent floods from the Laine and Ammer hit Oberammergau.

When the railway line was completed in 1900, tourism received its boost with the Passion Play. After the Second World War, the opportunities and facilities for guests were improved massively: a large network of hiking trails, a wave pool, the Laber gondola, Kolben chair lift, nine ski lifts, from 1,5 to 90 km long trails as the circular trail for the König Ludwig Lauf race.

Tips for trips in the area
Information Passion Play 2022
30. October 2019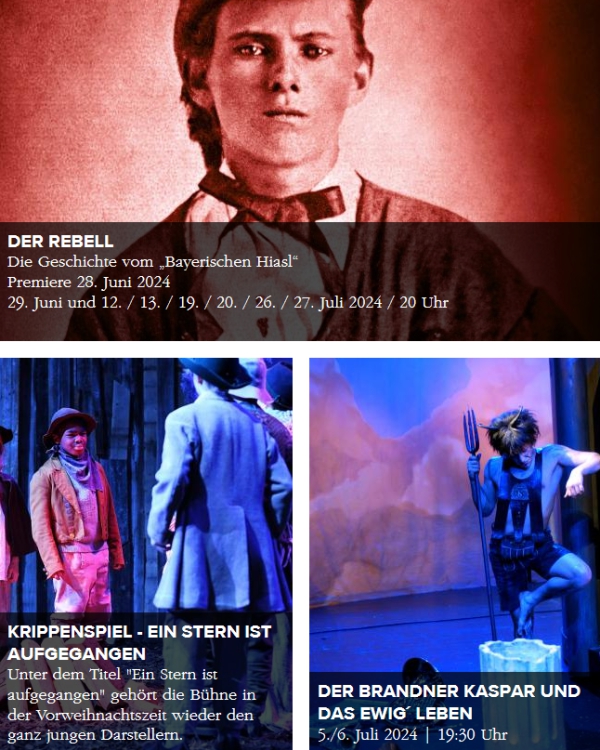 Passion Play 2022
You want to visit the Passion Play 2022 and want to stay in our hotel?
Sure, we can offer you different options:
Option 1:
Our Hotel offers rooms of different categories in walkable distance to the theatre.
All of our rooms are sold in combination with the tickets by the municipality!
You have to book directly:
Eigenbetrieb Oberammergau Kultur
Ludwig-Thoma-Straße 10
82487 Oberammergau
Tel. +49 8822 949 88 0
Fax +49 8822 949 88 56
This email address is being protected from spambots. You need JavaScript enabled to view it.
Option 2:

If your favourite date is fully booked already we can offer you to come for the Passion Play rehearsal with a much lower rate:
Our special offer:
3 – Day-Rehearsal-Arrangement:
2 x nights including breakfast
Date 1: 09 May-11 May 2022 or Date 2: 12 May -14 May 2022
1 x ticket in category 1
1 x dinner on arrival date
1 x 3-course-menu in the break
1 x text book
free use of public transport
local city tax
rate per person in double room/twin room: 399,- € (incl. VAT)
rate in single room: 450,- € (incl. VAT)
Should you have any other question, please do not hesitate to ask.
Hotel Alte Post Oberammergau
Dorfstraße 19
82487 Oberammergau
Tel.: 0 88 22 / 91 00
FAX: 0 88 22 / 91 01 00
mail: This email address is being protected from spambots. You need JavaScript enabled to view it.