"Kofel-Blick" café and restaurant
approx. 130 seats
Wood, marble, local carvings, gilding and lovingly painted walls decorate our hall that accommodates up to 130 guests. The sliding glass front offers unique views over the hustle and bustle on the village square. Our restaurant is the ideal place for a lovely cup of coffee, the morning paper or a slice of cake in the afternoon. This hall is also ideal for all kinds of celebrations.
Der Brandner Kaspar und das ewig´ Leben
12. July 2018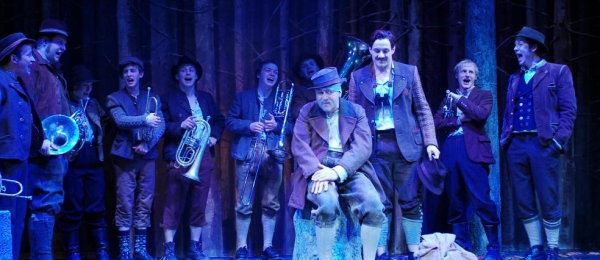 4./5. JULI 2019 | 19:30 UHR
Nach dem großen Erfolg des "Brandner Kaspars" im Passionstheater in den letzten Jahren ist am 4. und 5. Juli 2019 die Erfolgsinszenierung des Münchner Volkstheaters erneut in Oberammergau zu sehen.
Der Brandner Kaspar überlistet den Tod. Als der Boandlkramer kommt, um ihn zu holen, macht er ihn mit Kerschgeist betrunken und schwindelt ihm beim Kartenspiel einige weitere Lebensjahre ab. Die Geschichte ist bekannt und eine Erfolgsgeschichte des Münchner Volkstheaters. Rund 300-mal spielte das Ensemble vor ausverkauftem Haus in München und war im November 2006 sogar an der Copacabana in Rio de Janeiro zu Gast. Die Premiere war am 30. März 2005 am Münchner Volkstheater.