Hubertus-Stube
approx. 60 seats
According to the Hubertus legend, which has been told since the Middle Ages, he was converted on the hunt while pursuing a magnificent deer which he perceived to have a crucifix between its antlers. That is why Hubertus is seen as the patron saint of hunters. This is also clear in our cosy room. Old hunting weapons, antlers and the local shooting club's target of honour make the guest room into something really special. The room can also be used for conferences: a projector, screen, flip charts, food and drink as well as free parking spaces at the hotel are of course available.
Der Brandner Kaspar und das ewig´ Leben
12. July 2018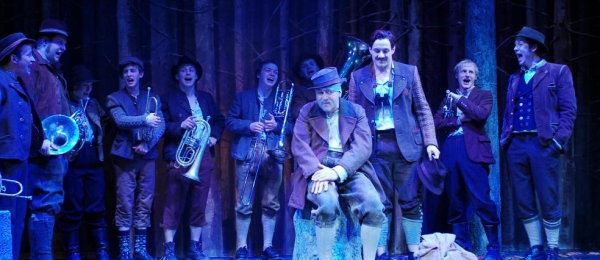 4./5. JULI 2019 | 19:30 UHR
Nach dem großen Erfolg des "Brandner Kaspars" im Passionstheater in den letzten Jahren ist am 4. und 5. Juli 2019 die Erfolgsinszenierung des Münchner Volkstheaters erneut in Oberammergau zu sehen.
Der Brandner Kaspar überlistet den Tod. Als der Boandlkramer kommt, um ihn zu holen, macht er ihn mit Kerschgeist betrunken und schwindelt ihm beim Kartenspiel einige weitere Lebensjahre ab. Die Geschichte ist bekannt und eine Erfolgsgeschichte des Münchner Volkstheaters. Rund 300-mal spielte das Ensemble vor ausverkauftem Haus in München und war im November 2006 sogar an der Copacabana in Rio de Janeiro zu Gast. Die Premiere war am 30. März 2005 am Münchner Volkstheater.